SuperStream is a data format that Funds must use in order to accept employer contributions. SuperStream provides a consistent and reliable method for sending and receiving superannuation messages electronically which reduces administration time.
This code is generally referred to as an Electronic Service Address or ESA code.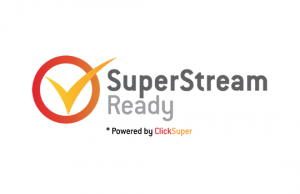 What SMSF Trustees need to do
SMSF Trustees must ensure their Fund has the ability to receive electronic messages and electronic payments associated with employer contributions. Generally, if an employer asks for these codes you will need to follow the steps below to obtain the ESA code. The electronic message can be delivered through the use of an SMSF messaging service provider (see below options).
Benefits
The key objective of this data and payment standards are to:
Help speed up the process time of contributions to Members;
Provide better information about super payments made to employees;
Provide notification to Members where contributions have or have not been received; and
Improve data matching and reducing the impact of lost Member super accounts.
SMSF messaging service providers:
1.Our clients will now be able to use the ESA code, BGLSF360, as a default. This is applicable for both employer contributions and rollovers. 
2.Trustees may register via wrkrSMSF Hub and the ESA code to be used is wrkrSMSF. Please click the button below for more information on wrkrSMSF including the fee involved to register for their service:
 Please let us know if you require assistance in registering your SMSF with wrkrSMSF.
3. Macquarie's Electronic Service Address is: MACQUARIESMSF. This is a free service if your SMSF has a Macquarie CMA Bank Account. No need to register as you are already on their system. If your employer wants a form confirming the Electronic Service Address (ESA), download the form here). Macquarie ESA cannot be used to accept rollovers and is only applicable for employer contributions;
Then give your employer the SuperStream code and the following details:
The SMSF name;
ABN of the Fund (also referred to as an USI or Unique Superannuation Identifier);
Bank Account number and BSB of the Fund.
SuperStream required to rollover super to or from retail funds
From 1 October 2021, SMSFs will require a SuperStream code to rollover to or from their retail/industry funds, as well as for certain electronic release authorities. Trustees should be aware when proceeding with any of the following:
Rollovers into your SMSF

The Trustee must use SMSF Verification Service (SVS) to verify the details of your SMSF

Rollovers out of your SMSF

The SMSF Member TFN Identity Check Service must be used to validate the impacted Member TFN before processing the rollover
If rolling to an APRA regulated Fund, a Fund Validation Service (FVS) is needed to obtain APRA Fund details, such as their bank account

Release authorities for

Concessional and non-concessional contribution caps
Deferred and non-deferred Division 293 payments
First Home Super Saver (FHSS) scheme
Things to note when using SuperStream:
The SMSF should have an electronic service address (ESA).
The SMSF should have their updated SMSF and Member details recorded with the ATO, including the SMSF's unique bank account
Compliance of a 'related' business (i.e. family business)
Regulation 7.07F of the Superannuation Industry (Supervision) Regulation 1994 ("SIS Regs") provides an exemption to comply with this standard where an SMSF and the employer are related parties.
Temporary Measures to address Rollover Issues
A new temporary measure has been released by the ATO to support Funds undertaking rollovers where the Trustee had trouble obtaining an electronic service address (ESA) from an SMSF messaging provider.
If there is an issue with obtaining an ESA from an SMSF messaging provider to allow a rollover, the Trustee can contact the Tax office on 13 10 20 and select fast key codes 4 then 1 to discuss the options.
Thereby the ATO will first check if the SMSF has a messaging provider. If YES, they will ask to call the provider directly. If not, the ATO will assist the SMSF in doing the rollover using a manual paper form.
This process is available only for rollovers from an SMSF and between SMSFs. If the SMSF have issues obtaining an ESA for a rollover from an APRA-regulated Fund to an SMSF, the SMSF will need to contact the APRA fund directly.